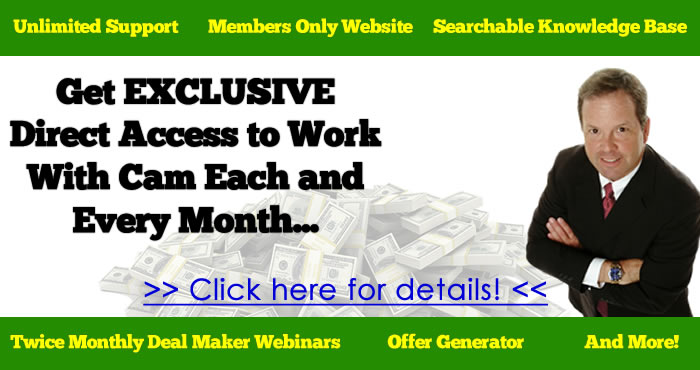 In one of my videos, I talk about the 2 biggest reasons why people quit or fail in the real estate investing business. The one is because they don't know where to go to get the money so this discourages them from making offers. The second reason is because they are worried they won't be able to sell the property once they get it. So they are worried they will get stuck with it and have to hang on to it for awhile. While these are the 2 biggest reasons for failure, there is also a 3rd reason…
They are afraid of making a mistake so they just quit. The first deal for most people is scary. I mean you are dealing with lots of different pieces to this puzzle. Just like anything though, once you've done it once, you feel confident you can do it again. It helps a ton if someone, with experience, can hold your hand and walk you through that first deal or second deal or third deal or whatever. By having someone "that has been there before" tell you what to do or what to expect, you will eliminate that fear that holds you back from investing.
What the Inner Circle is All About
This is what the inner circle is all about. To give you the confidence to act like a seasoned professional. I've been personally teaching this class for years and it's by far one of the most beneficial classes any investor can attend. I tell you what's working today. Secrets that's I've found or used in my business. You are able to ask those challenging questions and get feedback on what you should or should not do. My inner circle training is the next closest thing to an actual mentor.
So if you're struggling to do deals right now because of fear or anything for that matter, you need to jump in this Inner Circle with me. You will be able to leverage my knowledge as an investor to help you overcome your fears. Not only that, but you'll have access to all the past trainings I've done with my Inner Circle members.
Real Estate is a very creative business and it changes almost every day. It's important to stay up with things and know what is working. It's important to have someone you can bounce deals off of to make sure you are maximizing your returns. If you don't have that person, you need to find someone that can provide that. It will make a huge difference in your investing career.
Here is a link to learn more about the inner circle and how you can become a member.
Right now I am offering a 30-day trial so you can see what this experience is all about. You must act quickly because I don't know how much longer I will do this.