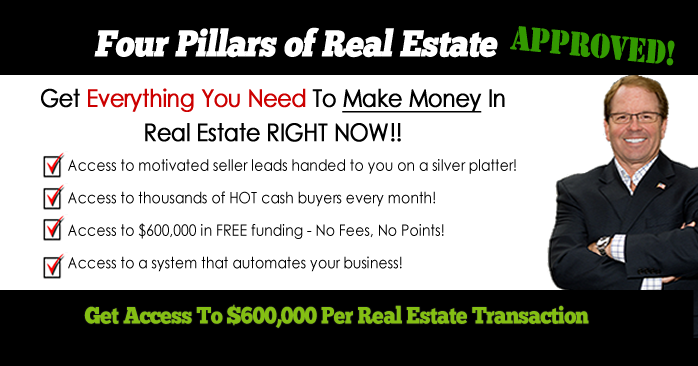 Thinking about investing in Vacant Houses? Well you've come to the right spot. Being a veteran investor myself, I've learned a ton since 1993 when I first started investing. And I must admit, it wasn't easy when I first started. But after that first deal, I have been committed ever since. I still invest today because that's how much I love this business. I also have had the good fortune of teaching others how to invest. If I can help someone achieve their goals quicker and help them make more money, I'm all about making that happen.
This is the main reason why I created The Four Pillars of Real Estate.
The Four Pillars of Real Estate is the ultimate all-in-one package which gives you all the necessary tools to help you make a TON of money in Real Estate Investing. The product was created for the sole purpose of providing you with everything you need to jump head first into the Real Estate Investing industry and beat your competition to the best deals!
With this program you get The 4 Pillars of a Successful Real Estate Investing Business.
Pillar One: One of the trickiest hurdles to get around when getting into the real estate investing industry is the capital to actually buy a property so you can make money, right? With the Four Pillars of Real Estate, I've erased that issue by allowing you to use my money and my bank account for your deals. That's right, you get up to $600,000 per transaction and Proof of Funds to my bank account, with NO additional fees, ZERO. There is absolutely no qualifying, whether you have no credit or bad credit – you can start making money as soon as today!
Pillar Two: As part of the Four Pillars of Real Estate you will get access to the planet's leading CRM Business Management System for real estate investors that allows you to effectively manage your entire real estate business from one easy to navigate platform. This system will help you stay organized, save you time and energy, and help you manage every aspect of your business, so you can scale with ease. You can use the system to track all of your invoices, create mailers, acquire and manage birddogs/buyers/sellers, construct your website using our easy website builder, make email marketing quicker with our 'email blaster' and much MUCH more.
Pillar Three: You'll also get unlimited access to a nationwide database of vacant houses throughout the country. You simply plug in a zip code or county and the system provides you a list of all the vacant houses in that market. It's really that easy. No more driving around searching for overgrown lawns, enjoy reclining at your desk while sipping on a latte and searching any market in the US in minutes!  The system provides you with:
NCOA (National Change of Address) Leads whenever available.
Access to homeowner phone numbers whenever available.
Matching vs. Non-Matching addresses – we will highlight HIGH Profit "matching addresses" for you!
And much MUCH more!
Pillar Four: You will also get instant access to OVER 60,000 hungry cash buyers every single month. Our system locates buyers who have paid cash for real estate deals and adds their information to our database so that you can find serious cash buyers with a couple clicks of the mouse. The system will also specify how many deals those cash buyers have done so you know that you're dealing with real players instead of wasting your time with a buyer that could leave you high-and-dry! Never worry again about not being able to find a buyer for your properties again!
The Four Pillars of Real Estate allows you to get MORE leads so you can make MORE offers, do MORE deals and make MORE money!!!
If you would like to get started with the Four Pillars of Real Estate, don't wait, click here or call our office at (607)527-6097 anytime Monday-Friday between the hours of 8:30am – 8:00pm EST. You can also email us at info@RealEstateWealthNetwork.com with any questions you may have.
Best regards,
Cameron Dunlap